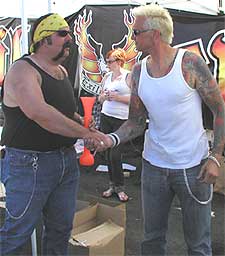 Look at that stupid orange cup that the Prez is drinking from...
Everyone was at the Full Throttle Saloon for the Sturgis 2004 bike Rally. The Prez is a huge fan of the EXILE bikes - known for their clean, beefy, industrial look - no chrome, big tires - big motors.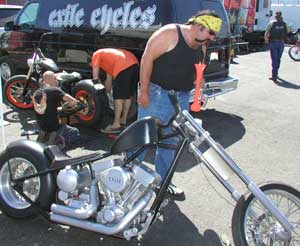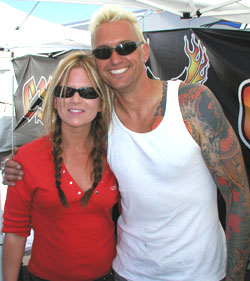 The Vikster also got a chance to meet Russell. He is very friendly and down to earth. He was happy to meet all the fans
Exile has grown as a company due solely to the popularity and uniqueness of their bikes. Russell talked about W.I.R.E. and how the concept of local and regional M.C.s are important to bike builders. "we support groups like W.I.R.E. because they keep the motorcycle myth alive and attract good people as members..."
Russell later told the Prez that it was a pleasure to finally meet him and that he uses his "W.I.R.E. t-shirt" to polish his bikes every day. Hopefully that was some "EXILE" humor on our behalf...